Brothers,
I thought this would be of interest.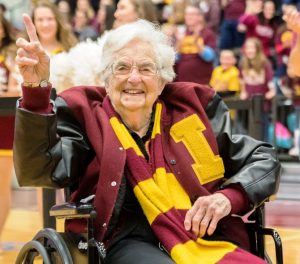 Loyola-Chicago confirmed Tuesday that Sister Jean Dolores Schmidt, BVM, the 101-year-old chaplain for the school's basketball team, will be in attendance Friday 3/19 when the Ramblers open the NCAA tournament against Georgia Tech in Indianapolis. The Ramblers won the Missouri Valley Conference championship and are the No. 8 seed in the Midwest region. The game will be at 4:00 pm.
Sister Jean, who became an international celebrity during Loyola-Chicago's run to the Final Four in 2018, has not attended games since the corona virus pandemic began.
Sister Jean will attend Friday's game at Hinkle Fieldhouse but not have any direct in-person contact with the team. She noted that if the players' parents can't interact with them, neither should she.
"These young people keep me young, even though I'm 101, I consider myself young at heart," she said.  Born Aug. 21, 1919, Sister Jean joined the Sisters of Charity of the Blessed Virgin Mary convent in Iowa after graduating high school. She joined the staff at Loyola-Chicago in 1991 and has served as the basketball team chaplain since 1994.
MIKE